« Back to Educational Material
Today, sedentary lifestyle or physical inactivity is common in the population. Especially when barriers are imposed that limit the possibility of being active. Some barriers that may occur include: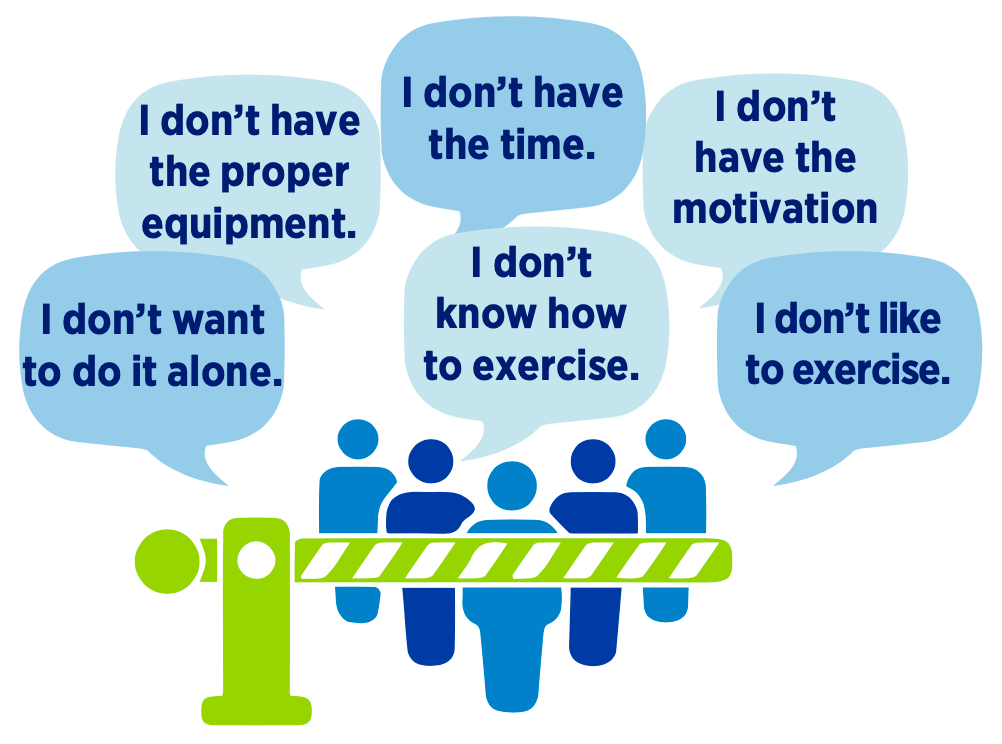 PHYSICAL ACTIVITY VS EXERCISE
It is very common to think that physical activity and exercise are the same and that to do it, it should be in a gym. However, physical activity and exercise are different concepts that will be discussed below.
WHAT IS EXERCISE?
It is a sub-category of physical activity characterized bybeingplanned,structured andrepetitive.
Examples of exercises:
Strengthening muscles
Routines in a gym
Running
Cycling
DID YOU KNOW THAT…
70% of an adult's body is water. Therefore, you should always consume water frequently. Even more so when performing physical activity which stimulates the loss of water in the body.
WHAT IS PHYSICAL ACTIVITY?
It is any body movement, which produces a contraction of skeletal muscle where energy expenditure is increased.
Examples of physical activity:
Walking
Gardening
Cycling
Dancing
Swimming
WHAT CONCEPTS DO I NEED TO RECOGNIZE FOR EXERCISE TO BE EFFECTIVE?
Intensity- amount of work being carried out.
Frequency- number of times a person does aerobic activity.
Duration- The length of time an activity or exercise is performed.
Within physical activity we can find the two ways in which the body performs energy expenditure.
1. AEROBIC ACTIVITY
These are prolonged, continuous and moderate-intensity activities.
Example: Walking 30 minutes
2. ANAEROBICACTIVITY
These are activities of short duration and high intensity.
Example: Strengthening muscles, lifting weights.
Benefits of being on the move:
Strengthening your muscles
You create more skill, balance and stamina
You reduce and maintain your weight
Reduces the risk of diseases such as Diabetes, Hypertension and Cholesterol
Increases HDL and reduces LDL
HOW MUCH TIME IS RECOMMENDED?
150 minutes of moderate-intense aerobic physical activity per week (2 hours and 30 min.)
DID YOU KNOW THAT…
Adults who are physically active are less likely to develop chronic diseases. Therefore, physical activity will help you have a proper fitness and feel healthier.
Appropriate clothing for physical activity should be:
Comfortable
Lightweight
Not hot
Sports shoes (Tennis)
BELOW YOU WILL FIND ALTERNATIVES TO DISTRIBUTE THE RECOMMENDED TIME DEPENDING ON YOUR AVAILABILITY.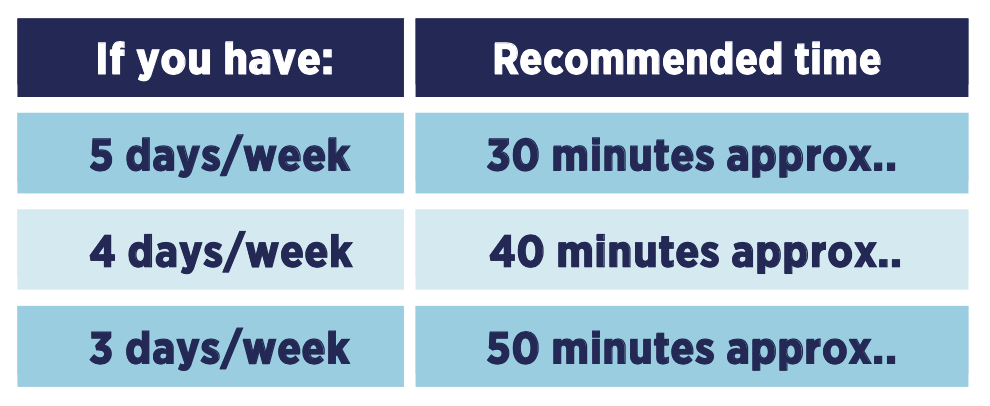 Download and save this information